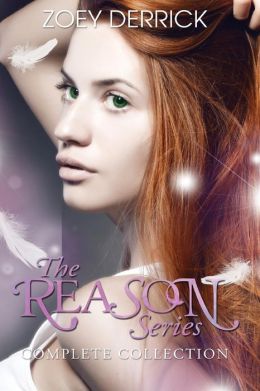 Blurb: The Reason Series The Complete Collection
Give Me Reason
Give Me Hope
Give Me Desire
Give Me Love

Vivienne Callahan has known only hardship. As if growing up with an alcoholic, drug addicted mother wasn't traumatic enough, she's escaped from her physically and verbally abusive boyfriend only to struggle every day to make ends meet as a waitress in a Minneapolis diner.

Along comes Mikah Blake....

***Content Warning***
This story contains sexual content and is not recommended for anyone under the age of 18.
Review: 4 of 5 Fangs
This series was well worth the read. It was beautifully written and well thought out as a whole. The struggle Vivienne endures is, unfortunately, one many women around the world are all too familiar with. Beneath the wonder that is Paranormal Romance, is a story of a woman coming into her own strength and finding the one man who would come to compliment that strength and provide a healing balm to old hurts. You hit rock bottom with Vivienne and then begin the epic crawl out of the gutter and into the sunlight. In a word…beautiful. As much as I enjoyed these stories by themselves, I would recommend reading the entire series. The stories are not written in a way that allows them to be stand alone titles. Doing so will only leave you with more questions than answers. That being said, The Reason series is heart wrenching and sometimes tear jerking but a series I would recommend to anyone!
http://www.barnesandnoble.com/w/the-reason-series-the-complete-collection-zoey-derrick/1118871846?ean=9780991525386